Are you looking to research and compare MBA programs in Chestnut Hill? Here you can find the best MBA degrees located in the city of your choice, compare them to each other and to MBA programs found throughout Massachusetts, the nation and offered online.
MBA Concentrations Available in Chestnut Hill, MA
When you are looking for the right MBA degree  that offers you the career concentration you are looking for, there are 19 MBA concentration to study at business schools in Chestnut Hill including Accounting, Management, Supply Chain, Statistics, Science and Technology, Quantitative Methods, Organizational Behavior, Operations Management, Marketing, Luxury Brands, Asset Management, Leadership, International Business, Information Systems, General Business, Finance, Economics, Consulting and Taxation.
Narrow down your choice of school by the number of concentrations offered in Chestnut Hill.
Accounting: 1
Management: 1
Supply Chain: 1
Statistics: 1
Science and Technology: 1
Quantitative Methods: 1
Organizational Behavior: 1
Operations Management: 1
Marketing: 1
Luxury Brands: 1
Asset Management: 1
Leadership: 1
International Business: 1
Information Systems: 1
General Business: 1
Finance: 1
Economics: 1
Consulting: 1
Taxation: 1
The following shows the number of concentrations offered by each school. Choose a school to investigate further or scroll down the page to compare school offerings.
Awards and Accreditations for Chestnut Hill, MA MBA Programs
Of the 1 accredited MBA programs offered in Chestnut Hill, 1 of them have been recognized by at least one distinguished publication (PQ, US News, Forbes, BW, FT and MBAGuide) earning an award as one of the best MBA programs in the country.
Chestnut Hill schools have earned a total of 6 Best MBA awards from publications. Here are the top 10 MBA schools and the number of awards the each program has garnered:
Publications and the number of awards granted for Chestnut Hill schools:
US News: 1
Forbes: 1
BW: 1
FT: 1
MBAGuide: 1
Compare Chestnut Hill to Massachusetts to US MBA Programs
Compare additional MBA programs offered in Massachusetts.
| Compare MBA Programs Averages | Chestnut Hill MBA Programs | Massachusetts MBA Programs | MBA Programs in the US |
| --- | --- | --- | --- |
| Average MBA Tuition | $111,012 | $67,225 | $39,291 |
| Average GMAT Scores | 637 | 591 | 543 |
| Average Full-Time MBA Faculty | 126 | 83 | 63 |
| Average MBA Student Faculty Ratio | 243:100 | 329:100 | 129:50 |
| Average # of MBA Faculty with Doctorate | N/A | 83.46% | 83.98% |
| Average Full-Time MBA Enrollment | 346 | 491 | 239 |
| Average Part-Time MBA Enrollment | 640 | 596 | 318 |
| Average # of MBA Students from U.S. | N/A | 63% | 75% |
More Cities in Massachusetts with Accredited MBA Programs
Not finding the right MBA program in Chestnut Hill or want to compare MBA programs from other cities in Massachusetts, here is a list of cities in with accredited MBA programs in Massachusetts: Amherst, Babson Park, Boston, Cambridge, Chestnut Hill, Easton, Lowell, North Dartmouth, Springfield, Waltham and Worcester.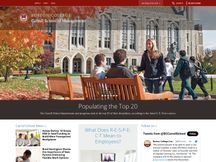 RANKED 1
Wallace E. Carroll School of Management
Institution

Institution Control: Private for-profit
AACSB Accreditation: Business
Academic Year: Semester

MBA Program

MBA Degrees Conferred: 405
MBA Concentrations Offered: Accounting, Asset Management, Consulting, Economics, Finance, General Business, Information Systems, International Business, Leadership, Luxury Brands, Management, Marketing, Operations Management, Organizational Behavior, Quantitative Methods, Science and Technology, Statistics, Supply Chain and Taxation
Offered As: Campus, Full-Time and Part-Time
Average GMAT Score: 637

MBA Student Population

Full-time Enrollment: 346
Part-time Enrollment: 640
Students from the US:
Take the next step toward your business future with online learning.
Discover schools with the programs and courses you're interested in, and start learning today.
Take the next step toward your business future with online learning."/>
Data sources: IPEDS, National Center of Educational Statistics, U.S. Department of Education, Institute of Education Sciences (ERIC), Association to Advance Collegiate Schools of Business (AACSB), 520 MBA Schools, U.S. Bureau of Labor Statistics (BLS). If you notice errors in the MBA program database, please contact us.
Find: MBA Programs in Massachusetts | Online MBA Programs in Massachusetts Rankings: MBA Program Rankings | Online MBA Program Rankings Guides: Guide to Earning an Online MBA | Guide to Earning an MBA Concentrations: Online MBA Concentrations | Campus MBA Concentrations